Organic Farm and Gardens
Growing methods....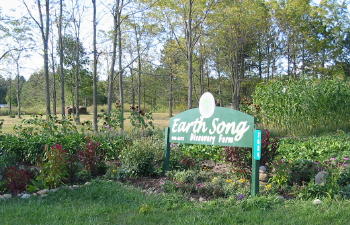 Many plants can only produce one crop per season. Therefore they are grown outdoors in soil that has been organically enriched. Here at Earth Song, we use strictly organic and bio-dynamic growing methods.
First we prep the soil. Earthworms are grown and released into the gardens to naturally compost the existing soil. We compost all available materials from the farm to strengthen the soil quality each year. Then we add a light coating of rock powder and ancient sea salts mined in Baja, Mexico. This re-mineralizes the soil adding around 90 trace minerals. We plant only non-hybrid seeds so we can collect seeds for the next year's garden.
We are also experimenting with bio-dynamic growing preparations. Another technique, called "sonic bloom", uses special sound frequencies that "sing" to the plants in tones that mimic song birds. This stimulates the plants to draw extra nutrients through their leaves.
Organic ? ....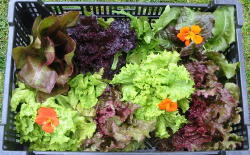 Although we use natural and organic methods, we have no interest in becoming "certified organic". With food now showing up on store shelves from all over the world with "organic" stickers, what does "organic" mean any more? Is it just marketing?
Also, hauling food thousands of miles is not very "green", not to mention the loss of nutrition compared to fresh local, vine-ripened food. We would much rather have you know the people who grow your food, so you can trust the source.
Earth Song crops....
Currently we have 25 assorted young fruit trees in our orchard and a grove of nut trees. The berry fields consist of 50 blueberry plants, 300 raspberries, 20 blackberries, and 24 grape vines.

vertical strawberry growing system

We have added 2000 strawberry plants this year that are grown in pots stacked vertically.

General garden produce includes beans, melons, squash, greens, root crops, tomatoes, peppers, asparagus, rhubarb and even edible flowers. We have planted some basic grains such as wheat, oats, barley, alfalfa and corn. We are also experimenting with growing ancient "grain-like" crops such as quinoa, amaranth, millet and buckwheat.

In addition to the traditional produce and flower gardens, we will be growing many herbs and uncommon plants. We have partnered with Ohio Valley Herbal Products to custom-grow herbs for blending into their wonderful product line.
| | |
| --- | --- |
| medicine wheel herb garden | row of new blueberry plants |
The Animals....

We have expanded our flock to around 150 black Australorp, Red Star and Ameraucana hens laying huge, abundant eggs. They are truly "free-range" having access to fresh air, sunshine, natural woodlands and organic pasture. Customers are telling us they are the best eggs they have ever tasted! Ask us what our secret is to making our eggs super nutritious.

Currently we have two Nubian dairy goats with babies coming in the spring. They are soooo cute with their floppy ears! The milk is delicious and nutritious. From we've read, goat milk is more digestible and better nutritionally for us than cow's milk. We also use the milk to make kefir, cheeses and goat milk soaps. Eventually we hope to have ducks and perhaps rabbits in the future.

Let us know if you would like to try your hand at milking or helping to gather eggs!




Australorp hen


Nubian milking goat
We are a host farm for the WWOOF-USA volunteer farm worker program.